The Black Door is hidden behind a toilet paper manufacturing factory. At this exclusive private venue, Mam' Rebecca (played by the legendary Linda Sebezo) treats her business associates and thanks them "in kind" for facilitating her tender frauds and bribes…
The story begins with a long-distance truck driver, Khaya (played by Zamani Mbatha), who shares a dream of owning a fleet of buses with his older brother, Chuma (played by Thobani Nzuza).
An unexpected windfall and a mysterious death, Khaya soon learns that his brother has been murdered. To repay the money stolen by his brother, he's thrust into a seedy world of sex, drugs and tender fraud. Will Khaya agree to be a sex worker and make big bucks at The Black Door, or will he suffer the same fate as his late brother?
What happens in the dark will be revealed in the light … The Black Door is a fascinating, dramatic and emotional story set in the high-class world of a pleasure-dome brothel. This locally produced risqué, adult drama series has a brilliant cast who will shock you with their secrets, but also steal your heart with the emotion behind it.
The Black Door debuts on Monday 11 April at 9.30 PM, revealing a world we cannot even begin to imagine. Mondays to Fridays - only on e.tv.
Meet the Cast
Rebecca Mahlangu played by Linda Sebezo
Also known as Mam' Ribs. She is a ruthless business-woman and avid golfer. Tough, hardworking, ambitious, and ruthless.

She is street smart and has adopted a tough and masculine attitude. Ribs has claimed the number one spot in a dangerous business environment, eliminating all competition through raw ingenuity and illegal gumption.

She was once a nurse, respected by everyone and holds onto that idea of herself. She loves her grandson and has a daughter, who is her weakest link.

She is innately maternal, but life has forced her to be cruel. She sees herself as honourable and praises the values of "honesty and hard-work" even as she works to build one of the largest brothels in Emalahleni.
She is a gangster's gangster and the most dangerous woman you can ever come across. She'll double cross anyone to get what she wants.
Khaya Sokhulu played by Zamani Mbatha
Khaya comes home to start a bus business with his brother Chuma and ends up having to take over from him at the factory, doubling up at The Black Door because he needs to repay Mam' Ribs the money she claims Chuma stole from him.
He sleeps with Dipuo after she begs him to help her conceive but, this becomes a complication when he falls in love with Nandi. He is living a double life and hates it but tries his best to not be exposed.
He will find himself having to cross certain lines he never thought he would cross… and often asks himself if the dream he has held so dear is worth going against everything he has ever thought he was.
Chuma Sokhulu played by Thobani Nzuza
On the surface Chuma is a leader in his community, leader in his church and very family orientated. A charismatic pastor, living a double life to provide for his family.
He would do whatever it takes to live the dream he and his brother always had. A great giver, charming and has a way with words without even trying or realising it. He is respected by his community.
A selfless and discerning man with a spine. He is extremely observant, scanning his surroundings and sees more than most people would. He is a doer.
He is also well endowed with a Midas touch when it comes to sex. The fact that he is a pastor makes him very popular among different clients.
---
Bra Kenny


Played by Bhekumuzi Mkwanazi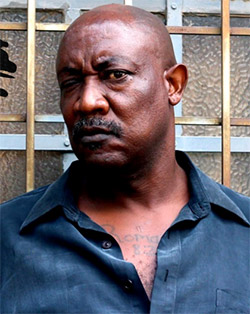 Mam' Ribs' right-hand man. The unassuming Bra Kenny works in the shadows but he is a man on a mission and will make sure he gets exactly what he feels he deserves. He is the enemy Mam' Ribs never saw coming.
---
Boniswa Mahlangu


Played by Gabisile Tshabalala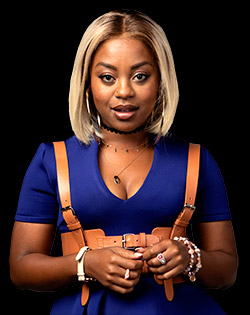 Mam' Ribs' daughter. She is an addict, with mental health issues, constantly in and out of rehab. Reserved and delusional, seemingly living in her own world.
She is gullible but also lovable. A mother and wife, with her husband and child living in her family home. No one takes her seriously and so she questions herself a lot as she often loses her grip on reality.
She is easily the one person everyone should be weary of as she knows and sees a lot.
---
Nkanyiso


Played by Mzikayise Makroti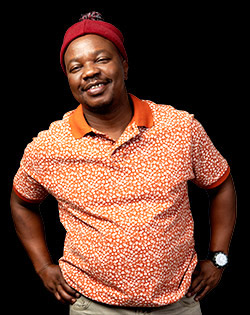 Bonnie's lover … Nkanyiso's plan to keep Boniswa incapacitated. He has one over Mam' Ribs when he finds out some damning evidence that will destroy Mam' Ribs, but going against her may be his own undoing, and he may end up losing his own life. He is treading on dangerous ground.
---
Frans Mkhize


Played by Siphiwe Nkosi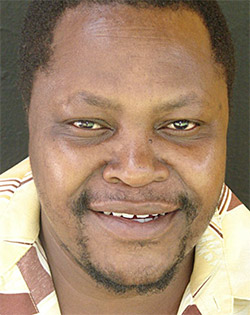 Frans lived most of his life living life by the book as a respectable member of society. A seemingly upright family man with a wife and one child.
He prides himself with his perfect family as a strict dad to a smart daughter. He has sacrificed a lot for her to get the best education and doesn't burden his family with how he affords their comfortable life.
He used to work hard, making an honest living, but has since given up on the system and found a way to make it work for him, by processing local tenders to the highest bribe bidder.
As reward for his risk taking, he now gets to enjoy the perks of unlimited access to the seedy underworld of a private brothel, owned by his favourite client: Mam' Ribs and he will do anything not to be found out – especially given that he has a taste for a few forbidden fruits…
---
Nandi Mkhize


Played by Sibonginkosi Tenza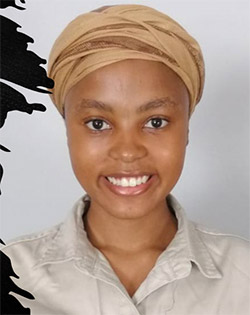 Khaya's love interest. She is book smart, having just graduated from business school at Stellenbosch, so has somewhat of a worldly outlook on life. Has a calming presence, although a bit naïve.
A confident only child who knows what she wants. Although she is a respectful young woman from a humble home with upstanding morals, she can't wait to finish her internship then move out of Emalahleni so she can be independent.
She is currently living in her parent's house, who are very strict, but has just fell in love and is determined to introduce Khaya to them.
---
Nolitha Sokhulu


Played by Sibulele Ntlebi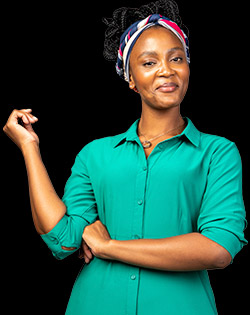 Chuma's wife. Submissive, obedient, loyal, loving and caring. An unemployed but domesticated hard-working makoti, grieving the recent loss of her young husband.
She knows she should want more for herself but lacks the courage to dream big. All she ever wanted was to be a respectable wife and mother, but she didn't get any of those things, so is starting to lose hope.
She is a bit of a coward and needs to stop hiding behind being the perfect makoti. She blames herself for her supposed infertility and doesn't know where to begin to start living her own life, so holds onto what she has always known – which is to serve.
The plot thickens when she falls pregnant, but you will never guess who the father is …
---
Thenjiwe Sokhulu


Played by Nonkululeko Mbatha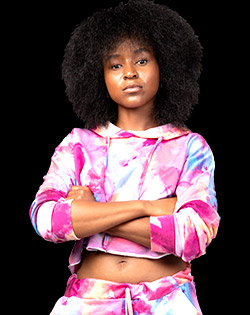 Khaya's sister. She seems cold, distant and constantly causes chaos. She harbours a lot of anger and has accepted that she is hard to love. She is a reluctant mother and is secretive about the identity of the father of her child.
She is misunderstood and doesn't seem to care about a lot of things. Keeps everybody at bay and would much rather lash out with vulgar retorts, than let people in and see her sensitive side.
She has never allowed herself to cry over the many injustices that have happened to her since she was a child.
---
Nomsa Sukhulu


Played by Velephi Mnisi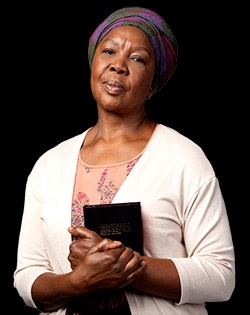 Khaya's mom (known as Mam' Nomsa). She is a calm peacemaker, and an avid church goer. Naïve with a persecutions complex about how life has dealt her a bad hand and nothing good ever happens to her.
As a result, she sometimes does not see the blessings that are right in front of her.
She wants the best for her children but has impossible standards, so has a strained relationship with them, as they can never live up to her high moral code and pious standards.
---
Bra Gibb


Played by Sello Ramolahloane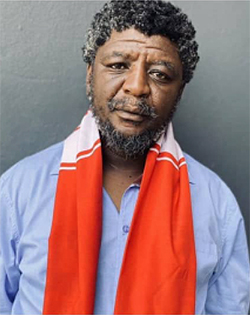 Lovable, cheerful, wise, helpful, and dependable. Adored by everyone as somewhat of a father figure in the community.
He contributes money to the church from his many small local businesses, which is what draws Nomsa to him.
He does not drink but he sells alcohol. Appears to be perfect on the surface but has a dark past that he hopes nobody would dare bring up, now that he is an upstanding man in the community.
---
Fanyane "Fana"


Played by Sandile Mfusi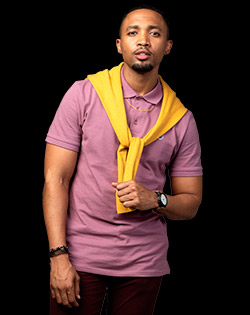 Known as Junior … he is Mam' Ribs' Toy-Boy. A handsome young man who loves the finer things in life.
Dresses well and affording his lifestyle from his sugar mommy's generous handouts. He doesn't have a backbone but doesn't care.
A submissive people pleaser who knows where his bread is buttered, but also believes he deserves to have it all. Loves himself enough to want to have another lover.
---
Mvubu


Played by Sandile Dlamini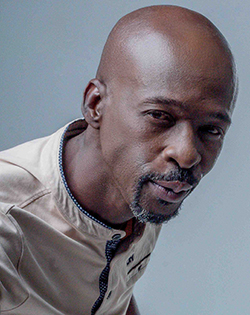 The factory manager. OCD - always wiping the area before he sits. Strict, annoying, funny but doesn't think or know he is.
A joyless man who doesn't laugh much. All he wants is to live in a perfect controlled environment as the class captain. He doesn't care that he is unreasonably difficult and always demands respect.
A closeted gay man who is subliminally self-loathing and will deny any such inclinations with all that he has. He loves being the boss when the boss is not around.
---
Jupiter
Played by Oscar Mgudlwa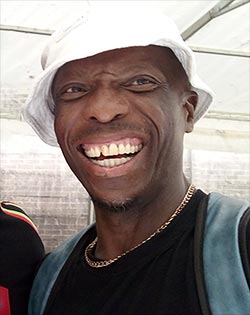 He is a 'street-smart,' wanna-be gangster, living for the moment and trying to be cool. He long gave up on his dreams, because of poverty, but enjoys that he still works in an environment that reminds him of those dreams.
The disappointment makes him sad, so he's always high and hides his sorrow with being the funny, quick-witted guy, making fun of intelligent people.
He never lets anyone into his house, where he lives in a messy experiment science lab, constantly surrounded by the clutter of failed drug chemical concoctions.
---